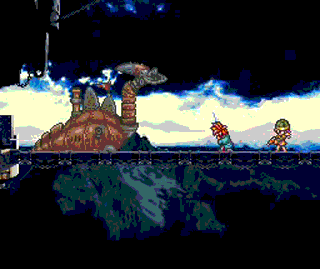 Konami's Suikoden lacks the panache of some of its contemporaries from Square. Some of that has to do with technical know how, but also knowing how to deal with technical limits.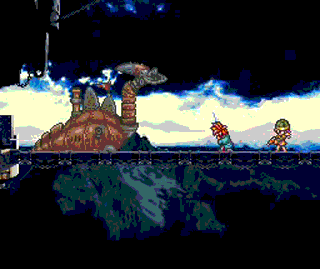 Characters in Chrono Trigger, like most Squaresoft games of the time, have a repertoire of expressions and motions that are reused and recontextualized throughout the game. Crono dealing the final blow to the Dragon Tank is incredibly awe-inspiring at the time it occurs, because we haven't seen him pull off anything quite like that yet. The violent thrust, especially coming after being wronged by the kingdom, adds a wrathfulness to him that we may not have expected. It is empowering, then, when you can voluntarily make Crono take similar actions as you learn his more complex techniques. By the end of the game, you'll have seen the animations quite a few times.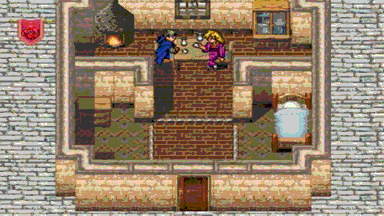 Here we have a really lovely and nuanced set of animations as the hunky doofus Flik plays host to the cougar counterfeiter Kimberly in order to enlist her. The scene has still more animations with fine detail, like hand movements and head tilts. Moments that are played like this in Suikoden – featuring a choreographed blocking particular to a location and a set of available props – can be counted on one hand. Flik and Kimberly do not drink sake again – these animations are unique to this scene. The commitment to this brief scene is admirable, but is it efficient from a development perspective – creating an asset that can't be reused?
In the time before 3D models were commonplace, animations could not be shared amongst characters like they are today. Sprites aren't like models that way. In 1995, to design and animate 108 characters for a new piece of hardware is no mean feat. A character needs to face and walk in all the cardinal directions, attack, use an item, get hurt, and be knocked out. Multiply that by about 80, and that's lot of work for a developer diving head first into a new franchise in a relatively strange genre.
The choice, then, to decide where to spend time applying unique, narrative-driven animations must have been difficult. (Especially when, it seems, battle animations and field animations are run on different engines and aren't interchangeable) Since it would be impossible to give every potential character in your party an animation appropriate to a particular point in the story, the choice was to leave leave most character reactions abstracted and up to the imagination. In exchange, story scenes with predetermined casts like the above have moments that make them stand out. That said, this particular scene is not particularly moving or informative, so in the end, the animations themselves are what make them worthwhile.
A lot of Suikoden's charm comes from this unpredictability in the narrative and the turns in tone it takes. Each leg of the journey reveals a different weapon or ally you attempt to bring into your army, but they aren't all alike in execution. It's not always easy to tell ahead of time what moment will result in a new unit, or a large scale battle, or a boss fight, or a duel. Or whether all of the above might occur back to back or simultaneously, for either a short duration or a long. This pattern keeps you guessing what will come next, forcing you to always be prepared and make use of each of the assets at your disposal as often as possible.
Although the brisk pacing makes you eager to find what big fight is around the next corner, the most disappointing thing about Suikoden is that, for the most part, there isn't one. Many times you may load out your party with the best equipment possible, find a great combination of characters with all the right runes and Unite attacks to make short work of any boss you'd find, and it rarely ever comes. There are only about 12 boss fights that involve the party you choose to bring with you, and half of them are weird monster lacking any narrative justification. The only way to measure the success of your tactics otherwise is against the randomly encountered riffraff along the way. It's a shame when there are so many interesting ways that 30 runes and 80 playable characters combine that there aren't that many appropriate challenges to test them on.
The other great challenges you face come in the form of great battles between thousands of tiny soldiers or one-on-one duels. They're both essentially games of rock-paper-scissors. That makes them sound simplistic – and really, they are – but that's not the whole story. Large-scale battles let you make your rock, paper, or scissors really big if you have the right people on your side, and duels challenge you to decipher which instrument your opponent will use based on context clues. The fact that so much rests on each decision, and that these situations come up as rarely as they do, makes the moments up to your choice quite intense.
What really makes Suikoden work, the urge that drives you even when you can't quite tell what character you should be using or how difficult the coming dungeon will be, is the constant growth you enjoy as times goes on, like a lovely colorful garden. Even just the recruits you gather mandatorily add up to make a huge cast. That so many people are willing to join you, and that so many of them have sound reasons for doing so – the main ones being vengeance and employment, but there's also glory and a hope to belong to something larger – reinforces the worth of your objective. Their personalities are portrayed succinctly and surprisingly deftly through a character portrait, their combat ability, and a few lines. Letting imagination take care of the rest, the 108-member cast of Suikoden is less annoying and/or pointless than most of the 40 playable characters in Chrono Cross.
Games like Suikoden invite player imagination by applying just enough abstraction in the right places. Older games than this have suggested fantastic battles between opposing armies, but few have let you put a face and a name to so many individual participants before. There is a limit, of course. You can't identify each of the thousands of soldiers that fight for the Liberation Army in the grand battles that occur a few times through the game, but knowing all the kinds of people that you've met across the land, you can assume what they might be like.
Liberation Army headquarters in the castle on the lake is a precursor to the hub worlds of later years, the lobbies of MMORPGs, the Normandy of Mass Effect – a small space that indicates the largeness of the world outside it with each addition to your war assets. With so many of your supplies being provided within your own domain, Suikoden could have done what later games would do, and simply teleport you to your next mission when necessary. Instead, they kept the iconic 16-bit world map with which you can go from place to place, random encounters suggesting the severity of each journey. Crossing the land by foot does provide a sense of ownership and responsibility that helps make your fight for peace worthwhile.
Some aspects of old design should be thrown out, and some aspects are simply tied to the technology or the trends of the time and die off naturally. The world map is a unique vestige of old design. It was not abandoned because it was a feature that arose from having to deal with old technology, but because even new technology is incapable of presenting an entire world in realistic proportions, and new trends wouldn't allow for a diminutive version of your protagonist crossing even tinier mountains to get from place to place. Today's method of representation, after the graphical arms race of the past decade and a half, has come to lean on 1:1 realism. The virtual space within games today are bigger than ever – there is more traversable surface area, anyway – but it can be argued in some ways that, without being able to artfully present an entire explorable globe, the scope is smaller.
At around the same time, Final Fantasy X, Breath of Fire: Dragon Quarter, even Wild Arms 4 were all games that did not let the player traverse a world map, even while previous entries in their series did. (Dragon Quest 8, interestingly, would pull an Elder Scrolls and make the distance between towns and dungeons realistic in scale – while keeping random battles). A game could not be on a powerhouse console and fail to deliver on visuals, nor could a game deliver on visuals and find a way to justify the minimalist abstraction of an old-style world map. I tend to believe that the questing beast of realistic scale lead to the downfall of JRPGs that struck a few years back, leading to games that could not rewrite the traditional JRPG script to match these narrower scopes. (Consider Kingdom Hearts, a game about traveling multiple worlds that are each made up of about a dozen rooms or so, or Xenosaga, a game about humanity and the cosmos that is completely linear – but, mostly, consider the shittier games that copied both of these)
Naturally, it took years of failure to adapt to new trends for players and developers alike to realize that there is a place for old design. That's why Bravely Default, a 2014 handheld game with a world map, received such good response in comparison to Lightning Returns.
It's also why – I hope – Sony and Konami had the good sense to bring back interesting gems like Suikoden for reappraisal. Looking back, simplicity and abstraction in a game may seem like symptoms of technological constraint, but when you consider the best possible choices that could be made at the time, the effectiveness of some ideas never truly age.
The question at the end of the day is, how do you best provide any kind of fulfilling experience? By knowing when to show off and knowing when to let the user's imagination do the rest of the work.